Solicitors in Lismore, Ballina, Byron Bay & Kyogle
Somerville Laundry Lomax Solicitors
More experience, better outcomes.
Solicitors in Lismore, Ballina, Byron Bay & Kyogle
Somerville Laundry Lomax Solicitors
More experience, better outcomes.
Solicitors in Lismore, Ballina, Byron Bay & Kyogle
Somerville Laundry Lomax Solicitors
More experience, better outcomes.
Established 1888
Depth of experience
With numerous solicitors, drawing experience from a wide range of specialist fields, Somerville Laundry Lomax Solicitors has a depth of experience that sets them apart in the region. Individually, Somerville Laundry Lomax Solicitors are recognised as some of the leading specialists in their practice areas and collectively, their expertise is unsurpassed.
Exceptional communication underpins the relationship we have with our clients. Somerville Laundry Lomax Solicitors takes time in the first instance to understand the situation and your expectations before providing solid, practical and powerful legal advice. This enables us to achieve the best possible outcome, every time.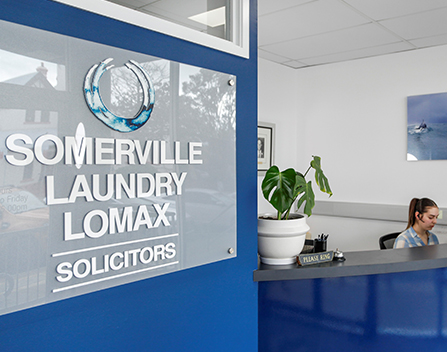 Compensation Law
Have you been injured in an accident? You may be entitled to compensation.
Commercial & Business Law
 Assistance with corporations, associations and businesses in all aspects of commercial and business law
Family Law
Clear advice about property entitlements, children's rights, divorce and de facto law.
Wills & Estates
experience in drafting testamentary trust wills, special disability trusts and advising in relation to superannuation.
Traffic & Criminal Law
representing clients in most areas of criminal law in both district and supreme courts, experienced advocates and litigation experts is unmatched.
Employment Law
Unfair or unlawful dismissals; Wage claims and entitlements; Unfair terms of Employment Contract.
Dispute Resolution & Litigation
Focused on preventing disputes, whether this is through drafting an air-tight financial agreement or ensuring that a property conveyance proceeds smoothly.
Conveyancing & Property Law
Comprehensive service ideal for all clients, from buying their first home to multi-million dollar developments.
Building & Construction Law
Our experienced team of Building and Construction lawyers can provide expert advice on a range.
Age Care Facilities
We have a broad range of experience in both establishing and ongoing management issues.
Actively supporting the community
Somerville Laundry Lomax actively supports the local community and are the honorary solicitors for:
Lismore Theatre Company
North Coast National ANI Society
Lismore Turf Club
Football Far North Coast
Far North Coast Rugby Union
What Our Clients Say About Us
I want to thank your Company and in particular Cassandra Keogh for taking over my Family Law matter. Cassandra's compassion along with her knowledge and expertise constantly helped put me at ease in finally settling my very messy matter. I would like to thank her for all the help she has given me and would highly recommend her to any future clients.
Pauline Horkings
Dear Sean,
Thank you for taking on my matter and managing it so well. I always felt you had my back and worked hard on my behalf.
I remain very impressed by the team and support staff you lead and can and will recommend your services.
Thank you again for your support and advice along the way.
Fondest regards,
B G
Dear Guy,
I am writing on behalf of the FNCRU Board to thank yourself and your organisation for your continued assistance in the conduct of the Board's Judiciary meetings, in particular, in the usage of a venue for the conduct of such.
Support such as your own and that of your organisation is essential in the conduct of the business of the zone.
I would particularly commend the efforts of Cassie at our recent meeting last evening, my first in the capacity of a member of a judiciary panel in FNC.
Cassie's input was not only reflective of your group's support for FNCRU, but also reflective of your seriousness in support of the process in selecting someone with Cassie's obvious knowledge of both sport and due process in such matters.
Yours in Rugby,
Jeffrey Brookes, For and on behalf of FNCRU Board FNCRU Board
We have been a client of this law business since the late 1990's. We always get exemplary service from Guy Latham our solicitor. He has assisted us over the years with Agency agreements in business, with conveyancing on the sale and purchase of 4 properties and with Wills and other issues. Great service always.
Russell Lean
I just wanted to send through a big thank you to the team at Somerville, Laundry and Lomax for all the professional support throughout my compensation process. For me it was not an easy process to go through, being very personal and over 3 years in length. However, when I connected with SLL about 18 months ago the process did become a whole lot easy as I soon became aware that I had the right support.
I particularly want to commend Nathan Job to you (who you originally introduced me to). It is my opinion that Nathan went above the scope of what was required of him professionally and I really felt personally taken care of by Nathan, which would be why I would recommend your firm in the future. He is a very genuine guy who instilled confidence in me throughout the entire process and who always gave honest and wise feedback about the various scenarios we were facing, while allowing me to make all the decisions.
Thank you again and much appreciated.
Carolyn